Learning at Home
Home learning will be delivered via Google Classroom.
WHAT IS GOOGLE CLASSROOM?

Google Classroom is a secure online educational resource resource that can be accessed from any device connected to the internet – laptops, desktop computers, chromebooks, tablets or mobile phones.
Accessing Google Classroom
Pupils can access Google Classroom using the mobile apps (Android and iOS), or via a web browser by visiting www.classroom.google.com. They should sign in using their St Augustine's  email address or user name that they have been given by their teacher.
Once pupils have logged in, they will see the class overview page. From here they can see all of the classes they are registered with and a summary of any work due.
Class Teachers will set weekly homework using Google Classroom. Google Classroom is also used to send announcements to entire classes, share resources, lesson notes, PowerPoints, diagrams, and home learning.
Keeping Safe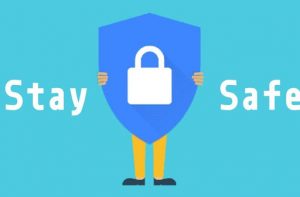 Keeping children safe continues to be our top priority. All school staff have a continuing responsibility to promote the welfare of the children we teach. Therefore, our home learning expectations follow the same principles set out in our Safeguarding, Online Safety and Behaviour policies.
We educate children and parents about the benefits and risks of using new technology and provides safeguards and awareness for users to enable them to control their online experiences. When accessing remote learning, children's  screen time will inevitably be increased, both for home learning and personal use. The school is committed to keeping children safe online and to ensuring positive online interaction between teachers, parents and children. In line with this, some work is also set which is not computer-based, to allow pupils learning time away from screens.
Children will be taught:
Appropriate online behaviour
How to evaluate what they see online
How to identify online risks
How to recognise techniques used for persuasion
How and when to seek support
Online Safety
At School
As part of your child's curriculum and the development of computer skills, we provide access to the internet only in teacher supervised lessons. We strongly believe that the use of the internet and email is hugely worthwhile and an essential tool for children as they grow up in the modern world.
As part of the curriculum, we teach children how to stay safe online through E-safety based lessons- where children can discuss how to stay safe online. We also encourage children to promote E-safety through displays and engaging in Safer Internet Day every year.
At Home
As a parent you'll know how important the internet is to children – they use it to learn, play, socialise and express themselves.  It's a highly creative place of amazing opportunities.  But the technology children use every day can seem a bit daunting and you might worry about the risks your child can face online – such as bullying, contact from strangers or the possibility of them seeing illegal or inappropriate content.
You can engage with your children regarding their use of the internet while at home.  Here are some conversation starter ideas from www.childnet.com
Use this poster to help support you and your child stay safe only-
Here are some other educational resources
FREE online education resources
BBC Learning
Blockly
Learn computer programming skills – fun and free.
Scratch
Creative computer programming
Ted Ed
All sorts of engaging educational videos
National Geographic Kids
Activities and quizzes for younger kids.
Duolingo
Learn languages for free. Web or app.
Mystery Science
Free science lessons
The Kids Should See This
Wide range of educational videos
Crash Course Kids
As above for a younger audience
Crest Awards
Science awards you can complete from home.
Paw Print Badges
Free challenge packs and other downloads. Many activities can be completed indoors
Tinkercad
All kinds of making.
Cbeebies Radio
Listening activities for the younger ones.
British Council
Resources for English language learning
Oxford Owl for Home
Lots of free resources for Primary age
Geography Games
Geography gaming!
Blue Peter Badges
If you have a stamp and a nearby post box.
The Artful Parent
Good, free art activities
Red Ted Art
Easy arts and crafts for little ones
The Imagination Tree
Creative art and craft activities for the very youngest.
Toy Theater
Educational online games
Twinkl is the 'go to' for teachers. They have kindly opened the doors to all for the duration of school closure and have given a code 'UKTWINKLHELPS' to access everything free for a month in the event of school closure.
This website is usually a subscription based website and is a firm favourite with year one. They have a huge range of fun phonics games for all levels in the Early years and KS1
A great website from the makers of the Biff and Chip books. There are some simple maths games and access to a huge range of ORT books. Very useful.
This is the best website I have found. It has a search facility to find activities or support for everything from understanding the need for sand and water play to tips on helping your child read. The section on learning numbers through play is particularly good. You can also use the search facility for links to other educational websites.
Probably the best website on the net for literacy and numeracy. A firm favourite with the children in year one. This website also has games and activities suitable for reception through to year 2.
This website has a lot of maths games covering many different areas of the subject
from simple addition and subtraction through to reflection and rotational symmetry
and many activities suitable for your older child.
http://www.familymathstoolkit.org.uk/activities-for-children
Advice and activities on how to help your child with maths at home. Some lovely activities which mean the children might not even realise they are practicing their maths skills!
This is an American with some fantastic maths games and activities grouped into topics. This is a wonderful site to help with difficulties in specific areas of mathematical understanding.
http://www.primaryhomeworkhelp.co.uk
This is a wonderful primary school website which has games and information on a range of subjects.
This is a fantastic website with some simple literacy activities. The games
will need your support to set up and talk through.
This website has links to games and activities from Nursery right through to the
end of key stage two. There are some really simple literacy and numeracy games
which your children will really enjoy.
A collection of resources to support learning in all areas of the curriculum.
Kids books and movies
This is a great website and app with lots of books. Whilst it is a subscription app you get the first month free. I would recommend using for the free month and then making your own decision.
Quite a few ideas for free activities which the children could access at home. Use the 'Activities' section to find the best activities for home learning.
https://bpes.bp.com/resources/list
BP provides some nice introductory videos for Science, Geography and Design Technology