Our school Chaplaincy team, which is organised by Mrs Taylor, enthusiastically help to organise and promote prayer, and events, within school which develop the Catholic life of our school and help us all to grow and share our Faith.They are supported in their endeavours by the Y6 'House Captains'.
Monsignor Gerard presented the Chaplaincy group with their Chaplaincy medals as part of our school year Welcome Mass.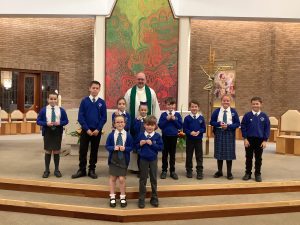 Our prayer group meets one lunchtime a week to spend time reflecting upon and learning more about their Faith. Projects over the past year have included: praying to St Joseph the worker, understanding the Rosary and praying to Our Lady, praying to St Gerards for his constant love and support, CAFOD charity support and pledges (walking in Solidarity with the poor), praying for the communities in the Amazon (Pope Francis request) and learning/teaching others more about our House Saints.
The Chaplaincy/prayer group help deliver lunch time prayer sessions, where children can pray together, this includes praying the Rosary together in October and May, prayers around the crib during Advent and travelling the Stations of the Cross during Lent. They also help set up Rosary areas, the Nativity crib scene and the Stations of the Cross in the hall and prayer room.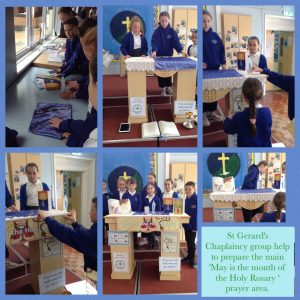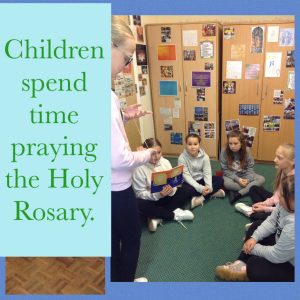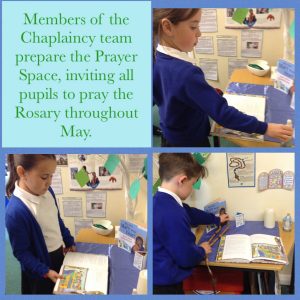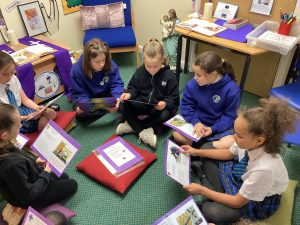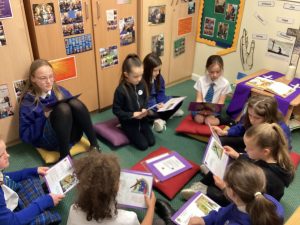 The prayer group have really enjoyed sharing some of their favourite Biblical stories with other children, so that all children are spiritually enriched and develop a love and understanding of them.
During the Year of St Joseph, the Chaplaincy group  encouraged all classes to focus on different aspects of St Josephs life. On a Wednesday, we dedicate our private prayers to St Joseph.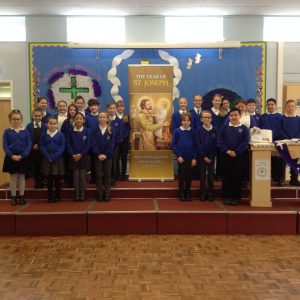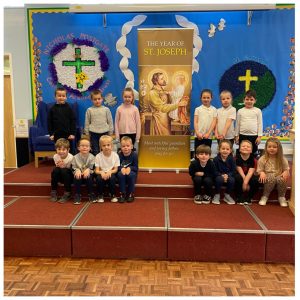 During Lent, the Chaplaincy group lead The Stations of the Cross and they encourage pupils to attend prayer group in our prayer space. They also encourage other pupils to take in lead in delivering the Stations of the Cross, one evening, to members of St Mary's.
In June of 2021 they also raised over £1000 pounds for Cancer Research. Our whole school community took part in the National Schools Race for Life. A fantastic effort and great contributions were made by all of our school, home and parish communities.
In September 2021 the school Chaplaincy group helped to organise and run a Macmillan coffee morning- in aid of Cancer Research- raising over £300. Fantastic support was given by parents, friends and pupils.
The chaplaincy group are continually promoting Pope Francis' message on Laudato Si by promoting an awareness of how we can support the people/ communities of the World- this year focusing on the area around the Amazon basin.
The Chaplaincy group have also shown their support by promoting CAFOD's work and commitment. In October they visited St Mary's Cathedral as part of CAFOD's support for the COP 26 initiative. They spent time conversing with a CAFOD representative and discussed ways in which they can support and promote positive global change.
All classes, throughout October and November, have been collecting money for CAFOD's Go Green campaign. Our November 'Go Green' day raised over £120 for CAFOD. We have been praying for all our World leaders to make the correct decisions during the COP26 Climate Change Conference.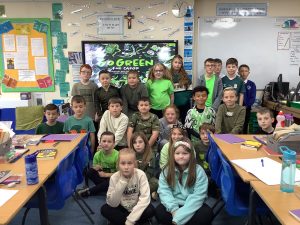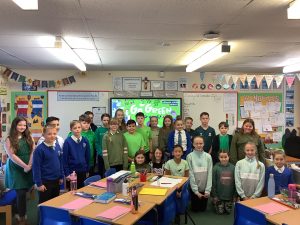 During the season of Lent the Chaplaincy group help promote, prayer, fasting and almsgiving. They organised a sponsored walk to support CAFOD's 'Walk Against Hunger' appeal. All pupils supported this and families were very generous.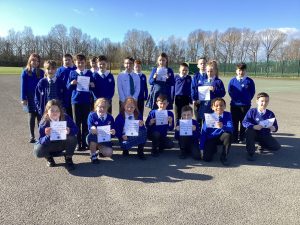 The Chaplaincy also supported CAFOD by attending St Mary's Cathedral Lenten soup kitchen. They thought about all of those children in the world, who are their Global neighbours, but who do not have enough to eat. They linked this in with leading members of the parish through the Stations of the Cross.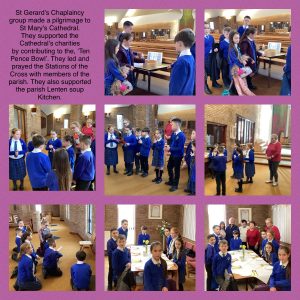 Parish priests regularly visit school and support our Chaplaincy group, through prayer, discussion and by spending time with all of the children.