Early Years Foundation Stage (EYFS) at St Gerard's
The Early Years Foundation Stage Framework (EYFS) sets out the learning and development stages for children as they grow from birth to five years. For those working in the early years -whether in a nursery, pre-school, a childminder or in a reception class in school – the EYFS outlines what they need to do to support your child.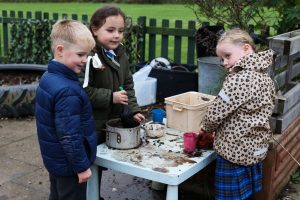 The EYFS is all about developing key skills. There are 7 areas of learning which are as follows:
Personal, Social and Emotional development
Physical development
Communication and Language
Literacy
Mathematics
Understanding the World
Expressive Arts and design
The children in EYFS explore and find out about the world around them. They discover and enjoy different ways of showing their learning in creative ways. We provide them with a rich variety of activities, both indoors and out, that match their needs and interests. Learning is linked to termly topics but the children's own ideas and thoughts ideas often direct where the topic leads.