St Gerard's 2021 – 2022 PE & Sports Premium (Updated Dec 2021)
St Gerard's Primary Evidencing the Impact of Primary PE & Sport Premium 2020-21
Have a look here for a leaflet outlining the importance of PE for your children.
St Gerard's Vision for PE
St Gerard's believes that physical education is an essential part of a child's educational development. Our vision is for all children at St Gerard's Catholic Primary School to experience excellent physical education, school sport and physical activity that will lead to life-long participation. We aim to develop a balanced program offering a variety of activities to enhance skills in physical education. Positive participation in physical education will enable children to build, self-esteem, team work and positive attitudes in P.E.
PE Curriculum
P.E. at St Gerard's RC Primary School plays a vital part of everyday school life. All pupils have a minimum of two hours of PE timetabled each week. P.E. offers children a combination of physical education, physical activity and competitive sports.
Our aim is to develop children's ability in a range of physical activities, to ensure children are able to sustain physical activity for a period of time and encourage children to engage in competitive sports and activities. In doing so, this will enable children to confidently lead healthy, active lives during and beyond school.
Have a look at the PE long term overview for this academic year:
KS1 and KS2 2021-2022 Long Term Overview
The National Curriculum for P.E.
The National Curriculum for P.E. focuses on developing the necessary knowledge, skills and techniques to enhance their sporting ability. In EYFS and Key Stage 1, children will develop fundamental movement, balance, agility and co-ordination skills and begin to apply these to a range of sporting activities. They are given opportunities to perform individually and with others and are encouraged to co-operate in competitive physical challenges, both against self and others. In Key Stage 2, children develop previously taught skills, learning how to use them in a variety of ways. It is here where children becoming increasingly more involved in competitive sports, modified where appropriate, and apply other principles such as attacking, defending and team work. Children will learn how to identify where improvements can be made and how to evaluate and recognise their achievements. KS2 children also get the chance to go swimming during term time.
PE Kit Expectations:
It is a school expectation that children should come to school wearing the correct school PE kit.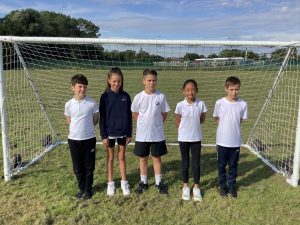 Click here for a list of PE kit
On PE days, children come to school wearing their PE kit for the whole day. Please check with your child's teacher for information about PE days or take a look at the list below: (this is subject to change):
EYFS –
Year 1 – Monday and Friday
Year 2 – Thursday and Friday
Year 3 – Monday and Thursday
Year 4 – Thursday and Friday
Year 5 – Monday and Tuesday
Year 6 – Tuesday and Friday
Click Here for the link to the protocol for P.E.
Swimming
Children in KS2 are taught key skills in swimming through lessons at Borocuda. Within these lessons, children are taught to become effective swimmers in a variety of strokes, enabling them to swim at least 25 metres confidently and proficiently. Children are also taught key water-safety skills and knowledge and ways in which they can perform safe, self-rescues in different water based situations.
NPCAT Sport Competitions
Take a look at the NPCAT competition calendar below. St Gerard's will be taking part in all of the competitions.
NPCAT Competition Calendar 2021-22