Phonics & Early Reading
Statement of Intent 
At St. Gerard's Catholic Primary School, we value Reading as an essential life skill that empowers children to achieve their full potential. We recognise that the ability to read is a cornerstone of future success, therefore we are dedicated to ensuring that all of our children become fluent and confident readers.
TEACHING OF SYSTEMATIC SYNTHETIC PHONICS
Throughout Nursery, children are given every opportunity to develop their spoken language
through adult interaction and to be exposed to a wide range of quality texts through teacher
story time. This is continued in Reception and in addition to this, we teach our children to read
using systematic synthetic phonics.
We teach early reading skills using the Sounds~Write phonics programme. This programme is highly successful in teaching children to read and spell because it starts with what all children know from a very young age – speech sounds. Then, using a very systematic approach, it teaches them how these sounds are coded within our writing system.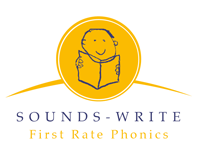 The four key concepts children need to learn are:
letters are symbols that represent sounds
sounds can be spelled using 1, 2, 3 or 4 letters
the same sound can be spelled in different ways
the same spelling can represent different sounds
The three keys skills children need to master are:
blending
segmenting
phoneme manipulation
Children in our Foundation Stage begin with the Initial Code where they practice all 3 key skills whilst learning the 1:1 sound-spelling correspondences, securing their understanding that letters are symbols that represent sounds.  This builds up trust in a truly reversible system, enabling them to decode and encode a wide range of words and sentences. At first, children learn to read and write simple one syllable words with a CVC structure. Complexity of word structure systematically builds up so that children apply their code knowledge to monosyllabic words with up to 6 sounds.
Once the Initial Code has been mastered, children continue to practice all key skills whilst learning the Extended Code which explores key concepts 2, 3 and 4.
Sounds Write sessions are taught each day to all children in Reception, Key Stage 1 and for intervention in Key Stage 2.
There is lots of information and some useful video clips for parents at:
https://www.sounds-write.co.uk/
Phonics Screening Check
What is the phonics screening check?
The phonics screening check is an assessment to confirm whether individual children have learnt phonic decoding to an appropriate standard.
It will identify the children who need extra help so they are given support to improve their reading skills. The will then be able to retake the check test so that schools can track them until they are able to decode.
Who is it for?
The screening check is for all Year 1 pupils – and children in Year 2 who previously did not meet the standard of the check in Year 1.
The link below will take you to the DfE information page about the check, should you have any questions, as always you can come into see your child's class teacher.
https://www.gov.uk/government/statutory-phonics-screening-check
READING SCHEMES USED WITHIN SCHOOL
Reception-Year 2
Until children have a secure knowledge of the phonics code and can blend these sounds to read a range of mono and polysyllabic words, they will read from our phonics-schemed books. These are labelled and organised in a progressive way to match our Sounds~Write scheme. The books have been carefully selected from the following schemes to ensure that they include words containing the appropriate sounds:
Sounds Write Unit Books
Dandelion phonic readers
Oxford Reading Tree
Our daily phonics sessions are fun and involve lots of speaking and listening through a variety of activities and games. The emphasis is on children's active participation – they learn to use their phonic knowledge for reading, writing and in their independent play.